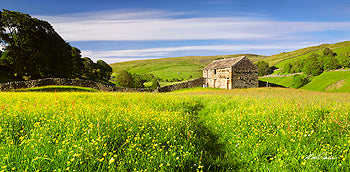 Buttercups and Barns, Swaledale Card - by Mark Denton Photography
Mark Denton has lived in North and East Yorkshire for nearly 15 years. He started taking photographs on a serious basis only in 2000 and soon progressed to using the unusual panoramic film camera he uses for most of his work today.  He is quickly becoming well known for his panoramas of North Yorkshire, taking inspiration from British photographers such as Joe Cornish and Colin Prior while developing his own unique style.
Blank inside to write your own personal message.
Card measures 21cm x 9.9cm DL, complete with envelope.
Product ref: 757
---
What about adding one of these?..