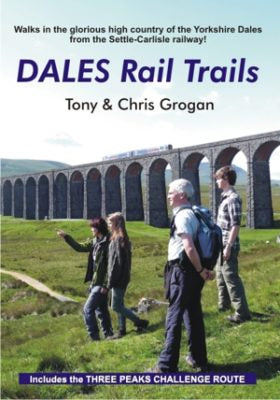 DALES Rail Trails by Tony & Chris Grogan
This book contains 32 walks from stations along the world famous Settle-Carlisle line, the most beautiful railway in England.  22 full colour maps at a scale of 1:25,000, with concise descriptions of the routes and places along the way.
There are 18 circular routes from stations along the line from Settle to Kirkby Stephen, each between 6 and 13 miles long, with a further 14 linear walks from station to station. 
The Yorkshire Dales offer some of the finest walking in England. The book also includes a guide to the popular 24-mile Three Peaks Challenge Route, and for lovers of long distance walking there are details of the 48-mile Six Peaks Trail, which links stations from Settle to Kirkby Stephen. 
So, as they say, let the train take the strain while you enjoy the walk.
---
What about adding one of these?..